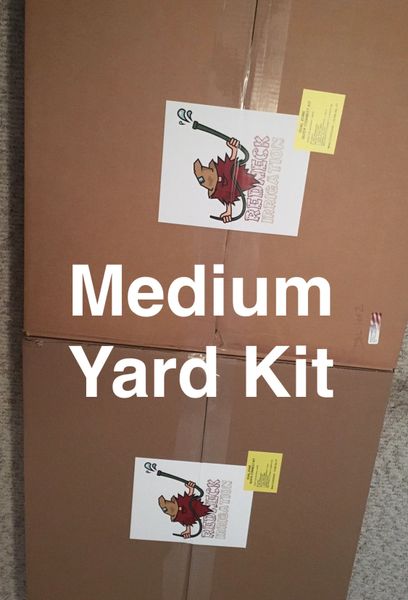 Medium Irrigation System
This one of a kind irrigation kit will give you back 2 - 4 hours of your life back daily. Not only does it free up your time it waters up 8,000 square feet of your lawn. This gem of a irrigation kit will change your hobbies from dragging garden hoses to golfing 9 holes or going fishing or anything else but watching sprinklers go round. This kit also will increase the value of your home and looks as professional as the neighbor that spent $4000.00+ on his.The Dual zone controller kit includes:
8,000 square feet coverage
206' poly pipe
8 - 25-50' radius gear driven rotor sprinkler heads, adjustable 40-360 degrees
1 - Dual zone battery operated faucet timer to automate your system
2 - back flow valves to use if you use city water not well water (required by most city's)
2 - hose connectors 
2 - drain valves
8 - marking flags 
8 - 6" sprinkler extensions
2 - press on tee fittings
4 - press on elbow fittings
2 - rolls of teflon tape
2 - end caps
4 - fipt elbow fittings
8 - fipt tee fittings 
2 - pipe clamps 
1 - packet of easy to read instructions
and assorted sprinkler nozzles
With easy to read instructions and a little motivation you can install this life saver in as little as 6 hours with the proper tools. The magic behind this kit is in the connectors as they are tool free being press to connect quick connectors. Also this is a one of a kind self draining kit with 2 self draining valves included, (no need to winterize the pipes anymore) So lets git er done! so you can go play with the boys or shopping with the girls with all that cash you just saved.  Enjoy! This kit requires at least 4 GPM per zone when using all 4 sprinklers per zone. ( 1 GPM per sprinkler ) all sprinklers come with the 2.0 nozzle installed giving you a 2 gpm per sprinkler. if you want 1 gpm just install the 1.0 nozzles that come in this kit. 
Reviews